[Sony Playstation 3]
POWER: Loss of Sony PlayStation Platform
The Market Leaders:
Sun Microsystems introduced the RISC architecture SPARC in mid 1987. SPARC was registered as trademark of
SPARC International, Inc.
, an organization established in 1989 to promote the SPARC architecture, manage SPARC trademarks, and provide
conformance testing
. Sun produced their systems on
OpenFirmware
, releasing it to the IEEE for standardization. SPARC found it's home on workstations, spread to servers, and even to
embedded systems such as the Sun Ray in the late 1990's
.
[IBM POWER5 Multi-Chip Module]


The Rise of POWER:
IBM produced the POWER architecture, an expensive multi-chip module which provided for outstanding performance at low volumes.
Apple
,
IBM
,
Motorola
, and decided October 2, 1991 to co-develop the POWER platform to expand the ecosystem for
RISC
processors under the
AIM Alliance
- to produce a single silicon chip high-volume RISC platform called
PowerPC
.
The
Common Hardware Reference Platform
(CHRP) for PowerPC was produced in 1994. CHRP platforms would require IEEE OpenFirmware (created by Sun) in 1995. To expand the POWER ecosystem, the "
power.org
" site was founded in 2004 by
IBM
, 15 other companies joined as members, nearly 20 years after SPARC. In 2006, the Sony Playstation released the
PlayStation 3, under POWER
architecture, expanding POWER into the gaming/entertainment sector.
SPARC Marches On:
In the 2000's, SPARC was no longer being used in the Sun Ray, but multiple vendors continue to produce
SPARC
processors. SPARC is an open specification, not a proprietary architecture, leaving multiple sources for this RISC processor. To continue to make this point, Sun Microsystems completely open-sourced their
UltraSPARC T1 CPU
in 2006, making SPARC it
freely available
for any manufacturer to produce - referring the architecture to
OpenSPARC
.
Fujitsu releases high-performance 8 core SPARC64 VIIIfx in 2009. The 16 core SPARC T3 was released by SUN/Oracle in 2010. Fujitsu releases another 8 core SPARC64 VII+ in 2010. Russia releases MCST-4R in 2010. Oracle released the 8 core SPARC T4 in 2011. Fujitsu is releasing SPARC64 IXfx in 2012. Oracle is projected to release the SPARC T5 in 2012.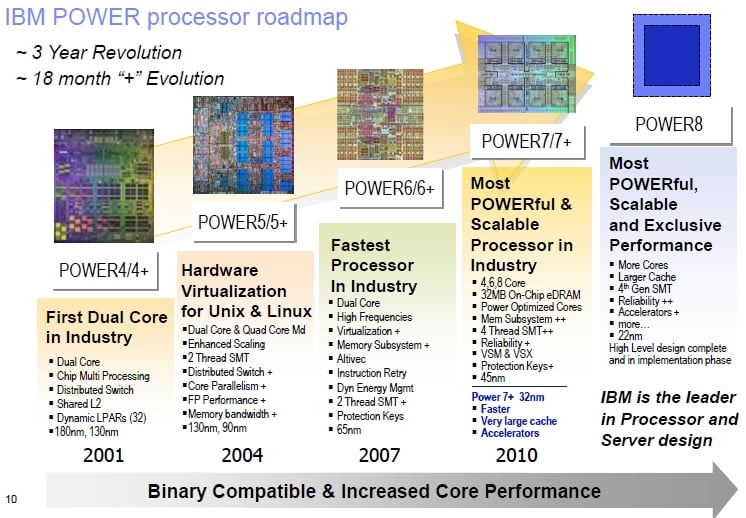 The Decline of IBM POWER:
Apple abandoned PowerPC for Intel in 2006, leaving IBM POWER without a desktop partner. Sony is rumored to
discontinue use of IBM POWER
for their gaming consoles in the PlayStation 4, starting the decline of POWER in the gaming market.
POWER7+ from IBM is now nearly a half-year late
and IBM has still not delivered as of March 2012.