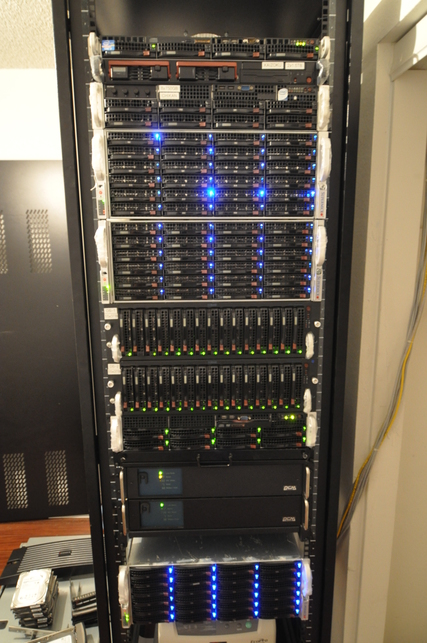 Solaris and Home Users
An interesting article hit the wires. A couple of
Solaris ZFS platforms
in someone's home with 24TB of data storage each is apparently the culprit of sucking a lot of bandwidth. It is interesting how Solaris continues to be a motivating factor on The Internet after all these years.
Verizon
is not very happy with the massive data consumption of their FiOS Internet connected network.


How Much is Unlimited?
Houkauonchi in California apparently pays residential rates of $208/month for 2 lines. Verizon started offering a faster residential option, which he took, even though the old business option previously had did not experience a discount or an incremental faster upgrade. What would any reasonable home user do? Well, he switched from a fast business rate to a faster resential rate to get more bandwidth! LOL! Verizon wants him to move to move back to a $400/month business service.
Once the telephone company sees an outlier like this in their usage, they start asking questions. Sometimes, it can be spammers or illegal pirating / file sharing activity.The primary driver for bandwidth usage for this user is securing hosting a server used by friends & family on the internet. As soon as this was done, Terms of Service is violated, and he needs to move to Business subscription.
[Brak710 data usage in May 2013]
Not isolated:
Another user,
Brak710
from
Pittsburgh, PA,
received the same type of inquiry. Apparently, he is purchasing4 different FiOS network connections, all from neighboring properties. High bandwidth usage also drove his basement servers to Business rates.
Lessons Learned:
If you have equipment at home, keep in mind that Network Carriers are monitoring their networks. Regular abusive usage patterns may cause your montly rate to rise, if once wants to keep their residential access pricing!