Solaris 11 Preview (Part 2)
Timothy Prickett Morgan
from
The Register
wrote an excellent article "
Oracle previews Solaris 11, due in November
" which spurred some contemplations.
Solaris 11 Performance Features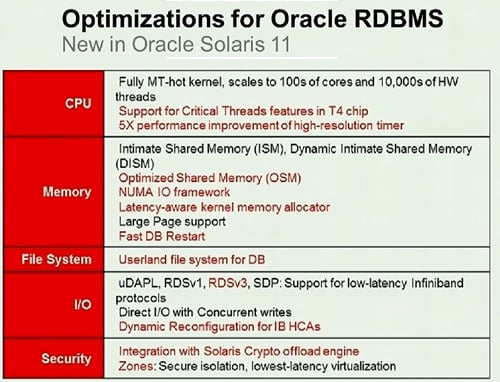 In the "Pushing Solaris to 11" section, TPM talks about the features added to Solaris 11.
One of the things that probably took some extra time was doing optimizations in Solaris specifically for Oracle software, which Fowler touched on here
I honestly don't think that these features pushed out Solaris 11 release. Many of them appeared in Solaris 10 Update 10, so I don't think the Solaris 11 "extra time" was necessarily due to many of these features.
Solaris 10 Update 10 Performance Features
Some of the features mentioned in the "New in Oracle Solaris 11" happened to make it into
Solaris 10 Update 10
- which many in the market are very pleased about.
In particular, some of the items included: ISM, DISM, RDSv3, many improvements in various threading libraries.
Other features, not mentioned in the release notes, but mentioned in
Solaris 10 Update 10 patch notes
include: T4 support, low latency socket framework
[time slider illustration]
Solaris 11 Upgrade Features
TPM also mentioned Fowler speaking about upgrade ease.
Solaris 11 will, for instance, have one button rollback features so if customers don't like the results of their upgrade to Solaris 11
With Solaris 11's integration with ZFS, multiple boot environments consume virtually no disk space, and upgrades can be done where the old boot environments may be allowed to remain in place (indefinitely, without losing OS mirroring capability), as with old Live Upgrade requirements. It just takes a keystroke to select the old boot environment under Solaris 10 Update 10 or Solaris 11.
There is an additional
"time slider"
, which is part of OpenSolaris, Solaris 11 Express, Solaris 11, and various other Solaris derivative operating systems - being able to turn back time on a system is pretty wonderful. Fowler may have been alluding to this.
Solaris 10 Update 10 Upgrade Features
One of the features mentioned in the
Solaris 10 Update 10
was the Live Upgrade of Solaris 10 using ZFS. I classified this as a "performance" enhancement, since Live Upgrade existed under Solaris 10 with easy rollback in the past, but it required a mirrored disk.
The Live Upgrade enhancement using ZFS is now here, for Solaris 11. The time-slider, from Solaris 11 is not.