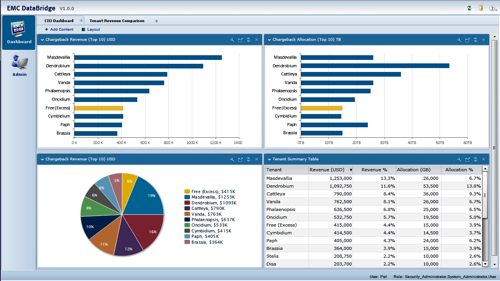 EMC: DataBridge
The Register posted an interesting article regarding
EMC DataBridge
, which is being displayed during
EMC World
2012 in Las Vegas Nevada this week.
DataBridge will support EMC's ProSphere, Data Protection Advisor, Unified Infrastructure Manager, IT Operations Intelligence Suite, Storage Configuration Advisor and EMC AppSync… There will be two DataBridge apps from EMC covering chargeback and resource analysis for visualisations of storage capacity utilisation… Actually DataBridge has an obvious possible extension to cover Vblocks, with storage, network and compute data coming across the data bridge, as it were, from the Vblock's component Cisco and EMC physical gear and the VMware software gear.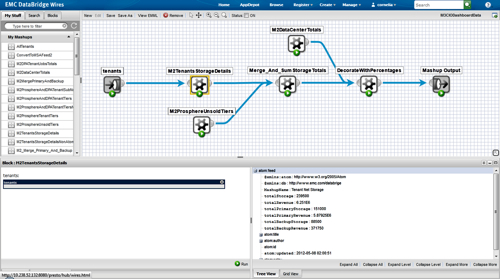 What makes this interesting are the variety of software platforms covered in the EMC DataBridge solution. It is a good sign to see them brought in under a single umbrella.
Network Management Connection
EMC is primarily a storage company, which did not have a real management solution for complete storage solutions... but at least they understood managed services. They produced a suite of applications to manage their storage solutions, which were available under multiple hardware and multiple OS platform vendors.
There was a company called SMARTS (an acronym for Systems Management ARTS) which specialized in multi-vendor network fault management (the suite was branded as SMARTS InCharge.) SMARTS understood managed services accounts, where multiple hardware and OS platform vendors were supported. They were later purchased by EMC with their tool suite rebranded as EMC Ionix. Now, EMC's management tool suite is being rebranded again as IT Operations Intelligence Suite, as can be seen above as one of the feeds into DataBridge. Once again, SMARTS was available under multiple hardware and OS platform vendors.
There was another company called Voyence, which specialized Configuration and Policy Management of multi-vendor network equipment. Voyence was considered a best-in-class provider, also attractive to the Service Provider business, since they supported multiple hardware and OS platform vendors. They were also purchased by EMC. Their product was brought under the Ionix umbrella and re-branded as NCM or Network Configuration Manager. This is rolled into IT Operations Intelligence Suite.
EMC also purchased a hypervisor company called VMWare. The union of EMC with VMWare seemed to be odd, but it started to become more clear. With EMC providing storage and hypervisor, they partnered with Cisco, and produced a product called Vblock, noted in the article. This is where EMC began to lose focus on Managed Services arena. Multi-hardware and OS vendor support disappearing from their portfolio, it seems EMC is dropping support for platforms which will not run in their proprietary VMWare hypervisor.
Conclusion:
While DataBridge looks like an interesting for EMC shops, it should be noted that EMC appears to be backing away from Managed Service Accounts. VMWare still runs on other platforms, besides Cisco, but one might suggest (from recent EMC history) that is only the case because EMC did not buy Cisco.
If DataBridge will capable of running on any non-VMWare hosted operating system, that would be a surprise with EMC's trend to abandon Managed Services Accounts. If EMC wants DataBridge to be a serious competitor in the market, EMC will have to demonstrate a commitment to partners not locked into VMWare.